Forklift dances show the skilled movement and tell the often unheard stories of the people whose work sustains our daily lives.
Founded in 2001 by Artistic Director Allison Orr, award-winning Austin-based Forklift Danceworks presents innovative performance projects with diverse communities. Developed through collaborations with over 20 different communities so far—including sanitation workers, warehouse employees, and retired Negro League Baseball players—our dances show the skilled movement and tell the often unheard stories of the people whose work sustains our daily lives.
Each performance is created through long-term artistic and ethnographic research within a community, enabling the artists to understand the collaborating community's history, challenges, and assets while building trusting relationships and observing movement material.
Forklift then creates choreography with the participating community members, transforming the ordinary, mundane, and skillful movements of work and everyday life into a performance accompanied by live, original music and stories told in the workers' or neighbors' voices.
Ultimately, Forklift seeks to create opportunities for more informed civic dialogue, deeper understanding of the jobs essential to urban life, and greater connection between citizens and across communities.
Forklift at Wesleyan
Allison Orr came to Wesleyan in 2014 as a CFA Creative Campus Fellow in Dance. In 2015-16 she returned to campus as the Menakka and Essel Bailey '66 Distinguished Visiting Scholar in the College of the Environment, a position she still holds. She is currently building towards the 2021 WesWorks performance, and will be publishing a book on her choreographic process through Wesleyan Press in Fall 2022.
Previous Wesleyan Projects
With support from the CFA, the COE, the Dance Department, and Physical Plant, Forklift Danceworks has worked directly with employees and students across multiple projects.
BUILD, 2016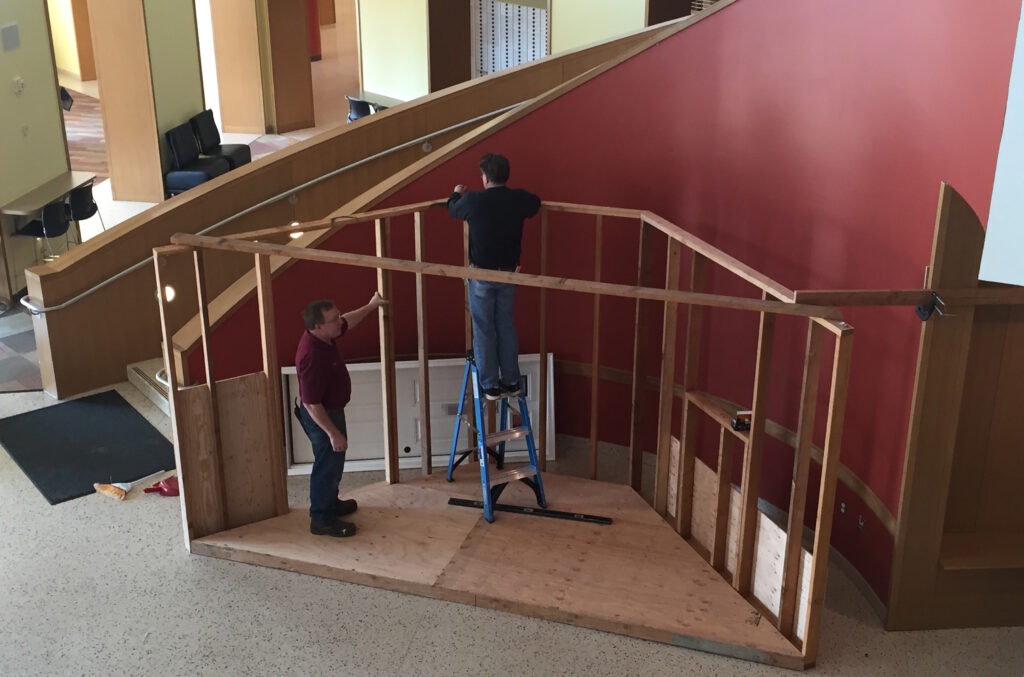 As part of Clara Pinsky's ('16) Senior Dance Thesis, Physical Plant employees constructed a fully functional room from scratch in the Usdan University Center. Their performance was accompanied by a musical score that included recorded stories of their work and lives. Pinsky also coordinated a student forum about home maintenance that was taught by Physical Plant employees.
DANC376: The Artist in the City, 2018
Taught by Allison Orr, The Artist in the City brought together Wesleyan students and Middletown's Water and Sewer Department. Throughout the semester the students shadowed employees on the job. The class culminated in a performance at the Connecticut River Waterfront in Middletown. Watch moments from the process and performance here.
Sweep Off Your Feet, 2021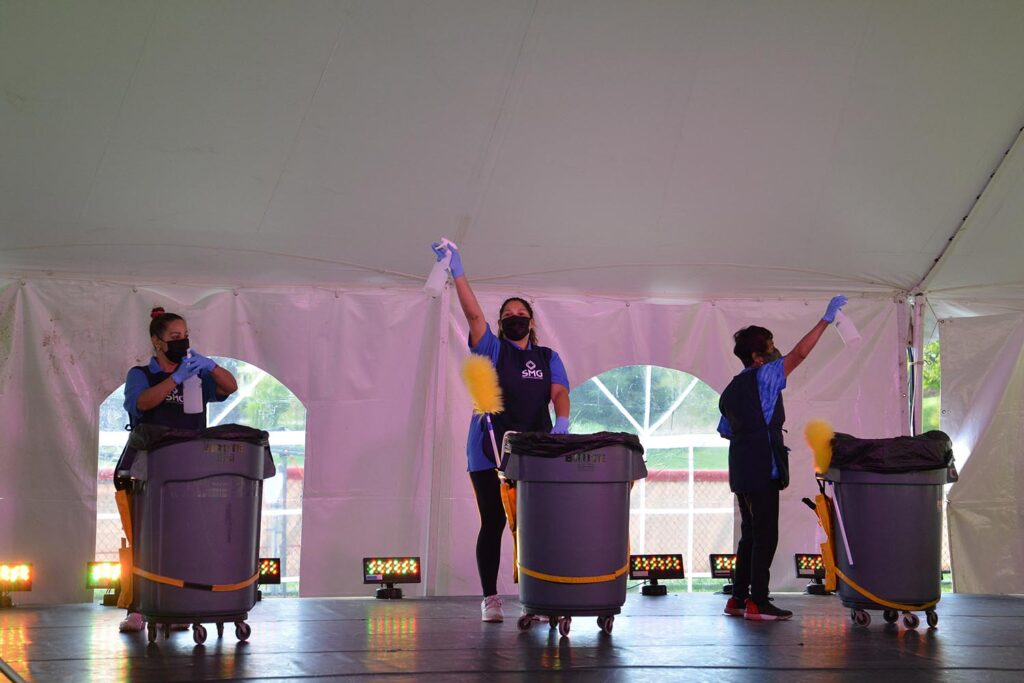 A Senior Capstone by Tamara Rivera '21, Sweep Off Your Feet celebrated the skilled movements and work of Wesleyan's custodial staff. To create the show, Maria Porquillo, Yocasta Genao, Sandra Estrada, and Lloyd Jones collaborated with Rivera and Sam Leter '22, Mikaela Marcotullio '23 and Meg Wiley '22, through Rivera's student forum, Community-Based Art Making in Practice. Watch the show here.
Forklift has also led workshops, taught modules of Introduction to Environmental Studies, hosted summer interns through the College of the Environment, and mentored student forums.